Retro-Me has been in the branded photo booth leasing business since 2009. You'll find our booths all over the UK at some very well-known places and some are branded as requested.
What Does Branded Photo Leasing Mean?
We'll come to the branding part of the business shortly. Let's start with leasing a photo booth from Retro-Me.
Our photo booth leasing options entail vintage, retro-style, photo booths, hand build with quality recycled materials. The booths may look like something of the past (customers love nostalgia) but inside it's a different story. The very latest (low energy) lightning combines with the latest camera and print technology. Plus users of the booth can post directly to their social profiles.
What are the Benefits of Leasing a Photo Booth from Retro-Me?
You get a fun photo booth (along with a prop box) that will delight your customers. More importantly, you get an additional revenue stream, all for a very small footprint (and low-cost energy-wise).
Photo booths are especially profitable in restaurants, nightclubs and entertainment businesses.
The added benefit is they help retain customers AND promote word-of-mouth. People love to have happy memories of a venue and if they have a picture that captures the good time they had they are likely to share the pictures on social platforms for family and friends to join in.
We make it easy:
No-risk, free trial
Free Installation
Costs are absorbed by Retro-Me and profits are shared with the venue, to your advantage.
We offer maintenance, for hardware and software in the photo booth. They are very robust, some have been in 'robust' venues (like nightclubs) for years and come to no harm. Software updates are usually a breeze as they can be done remotely.
Benefits of a Photo Booth Lease for your Business:
Pull in the crowds
Increase party bookings
Exclusive to your locale
Increase your social media coverage
Sponsorship opportunities for your business (branding a photo booth)
Read our Photo Booth Leasing page for more details.
Branding a Photo Booth
You can brand a photo booth with your own business or you can offer to brand for a supplier or other local business. We can wrap a booth with branding to the exact guidelines.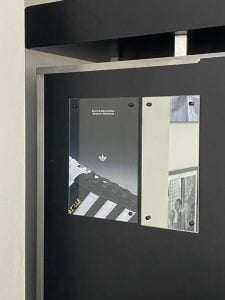 We've provided our booths for a host of big brands including Sky TV, Sony, The National Trust, The Royal Festival Hall, Victoria's Secret and recently Adidas.
If you fancy a quality photo booth to lease long term and you wish it to be perfectly branded then contact the team.
We work all over the UK including London and Hertfordshire, Bedfordshire, Buckinghamshire, Berkshire, Essex and 'up north.'
Read Our Story here and find out how this family-run business started and thrived. Our happy clients have provided many testimonials which you can browse here.